High Calorie SHAKES e-Cookbook
Are you trying to help older adults maintain their highest level of function and health in their final years? Need of a resource to stop weight loss in older adults? Looking for some good high calorie recipes? Maybe you've found some resources, but are tired of boring, black and white handouts?? Then the High Calorie SHAKES e-cookbook is for you!
High Calorie SHAKES can help YOU help THEM. Help them protect their muscle and stay independent longer. I have created a full color e-cookbook with both education and recipes to stop unintended weight loss and promote weight gain in older adults.
This cookbook was designed to help YOU… whether you are the health care professional, the caregiver, or the actual meal provider for older adults.
Let's Talk About Unintended Weight Loss
It's a big deal. It robs older adults of their independence. It impacts their quality of life and increases the risk of death and disability. You see, when an older adult loses weight unintentionally, they are losing muscle. And we need muscle to get dressed, walk, bathe, cook… have independence!
This is a big deal because older adults tend to have less muscle to start with. Sarcopenia is the loss of muscle with age. If you have two people, a young adult and an older adult, even if they are the same size… the older adult is going to have less muscle than the younger adult.
The bottom line is that unintended weight loss leads to muscle loss which then leads to:
Loss of independence
Increased fall risk
Risk of early death
Unintended weight loss is a big deal. Weight loss in elderly must be stopped. Older adults deserve to thrive in their final years. They need muscle to do this.

Why High Calorie?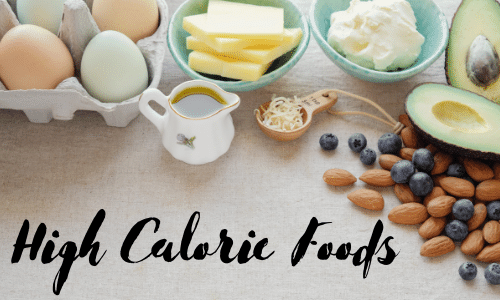 Hold up. High calorie? Aren't a ton of calories (and lots of fat) bad for you?? For some people, using high calorie recipes can be a huge shift.
We are so used to focusing on "healthy foods" high in vitamins and minerals. As a dietitian I can attest to the trans-formative power of food.
However, when an older adult is unintentionally losing weight, they are losing muscle (read= losing independence). They are becoming malnourished. This increases their risk of hospitalization, falls and even early death. 
Providing high calorie foods can stop weight loss. And foods high in fat have the most calories per volume than any other nutrient. This is a good thing- it means they can eat a less food and get more calories!
When unintended weight loss occurs, stopping it becomes the priority. Think about it, we eat healthy foods to prevent the long-term complications of disease and illness… but if an older adult loses weight and muscle, if they fall, are hospitalized, or if they die as a result… what was the point?
When facing malnutrition and the risk of losing muscle and even death, calories and stopping weight loss takes priority over eating "nutritious foods". Now keep in mind, the goal isn't to stay on a high calorie diet forever.
The goal is just to stop the weight loss. And to promote weight gain as needed. But there will be cases where people are on a high calorie diet for an extended period of time.
You can learn more about high calorie foods in our article on Stopping Unintended Weight Loss in Older Adults.
Why High Calorie Shakes?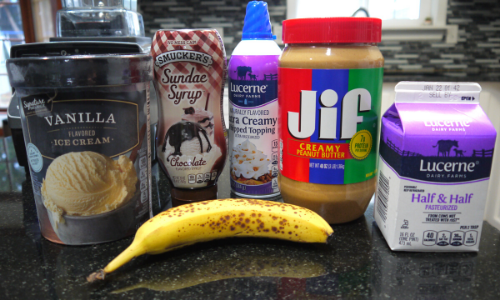 Adding high calorie foods into the diet of an older adult is KEY to stopping unintended weight loss. But it takes intention and planning. Many older adults experiencing weight loss have poor appetite and a hard time "simply" eating more food.
The solution? High calorie shakes! These can easily be sipped on in-between meals to maximize calories. The bottom line is that high calorie shakes work!!
I have been working with older adults for over 11 years. I've found that even when my clients can't take another bite of food, they can still sip on a drink or shake.
Why the High Calorie SHAKES e-Cookbook?
Why this e-Cookbook? Because there is NOTHING else like it!!
When you or I want a recipe, we can find amazing recipes online or in cookbooks with beautiful pictures. But for older adults who need more calories?  They typically get a boring black-and-white handout. No pictures (OK, maybe some clip art).
But who wants to look at that? Does that make them excited to eat more? This e-cookbook will make them excited to stop their weight loss. Who doesn't enjoy a tasty treat?? High Calorie SHAKES is an e-cookbook… but it's more than just recipes. It has information and tips to stop weight loss. Check out the features!
High Calorie SHAKES Features:
Full color PDF e-Cookbook
Clear, easy to understand information
25 delicious and creative recipes
Simple recipes with calorie & protein facts
Detailed information on high calorie foods
Top secret tips on maximizing intake
Individual tips with each recipe
36 MB PDF download
Inspiration to create even more shakes
The shakes in this cookbook fit in a 20 oz. container and are designed to be a "thinner" shake to make it easier (and faster) for an older adult to drink. Tips are included if they prefer a thicker shake.
High Calorie SHAKES Recipes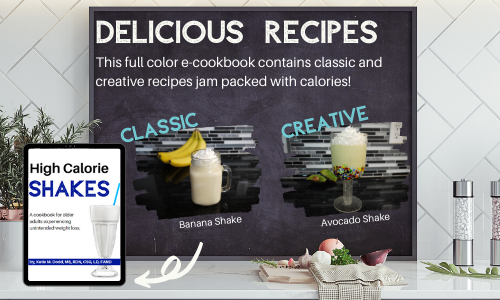 This cookbook contains classic shake recipes like Chocolate and Banana. But it also has fun and creative recipes like Avocado and Peanut Butter Jelly.
Here is the full list of recipes in this e-Cookbook!
The Classic Series:
Vanilla Bean

Chocolate Shake

Strawberry Shake

 Caramel Shake

Banana Blast

Butterscotch Shake

Coffee Shake

Malted Magic
The Nutty Series:
Peanut Butter Bliss

Maple Nut

Peanut Butter Cup

Almond Butter

Peanut Butter Banana

Hazelnut Chocolate

Peanut Butter & Jelly
The Party Series:
Avocado Shake

Pina Colada

Chocolate Mint

Chocolate Banana

Coconut Cream

Cinnamon Roll
The Pie Series:
Apple Pie

Cherry Pie

Pumpkin Pie

Blueberry Pie
These recipes work! I know, because I gained a lot of weight making them. 😉 But they are also delicious! My personal favorites are Banana, Pumpkin Pie, and Avocado.
Is This e-Cookbook JUST for Older Adults?
No! This resource can be used for any client or population that needs a boost of extra calories. My target audience just happens to be seniors! Please note this cookbook is written towards caregivers and references older adults. But anyone would love these recipes (my 4-year-old and 9-year-old sure did!).
Just keep in mind these recipes are created with the intent to stop unintended weight loss, prevent muscle loss, and save lives. These recipes are all about calories and taste. If you are needing to gain weight and are looking for "healthier" recipes that you can follow for a long term basis, check out our article on High Calorie Smoothies for Weight Gain.
Grab a Copy Today!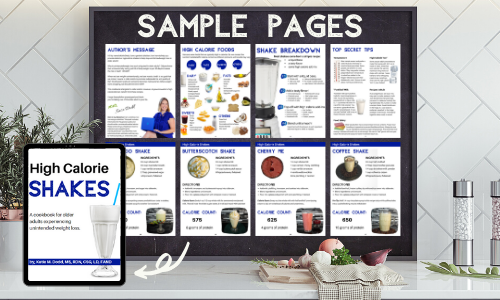 Whether you are a healthcare provider, caregiver, child, or friend of an older adult… grab your copy today so you can stop weight loss now or so you can be prepared if unintended weight loss starts.
I created this e-cookbook for you. I created this with a vision of stopping unintended weight loss in older adults. With the intention to help older adults thrive in their final years. And I am so excited about this resource.
These are the recipes that will stop weight loss and preserve independence in older adults!
Not Ready to Buy? Grab Your Freebie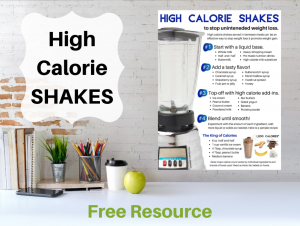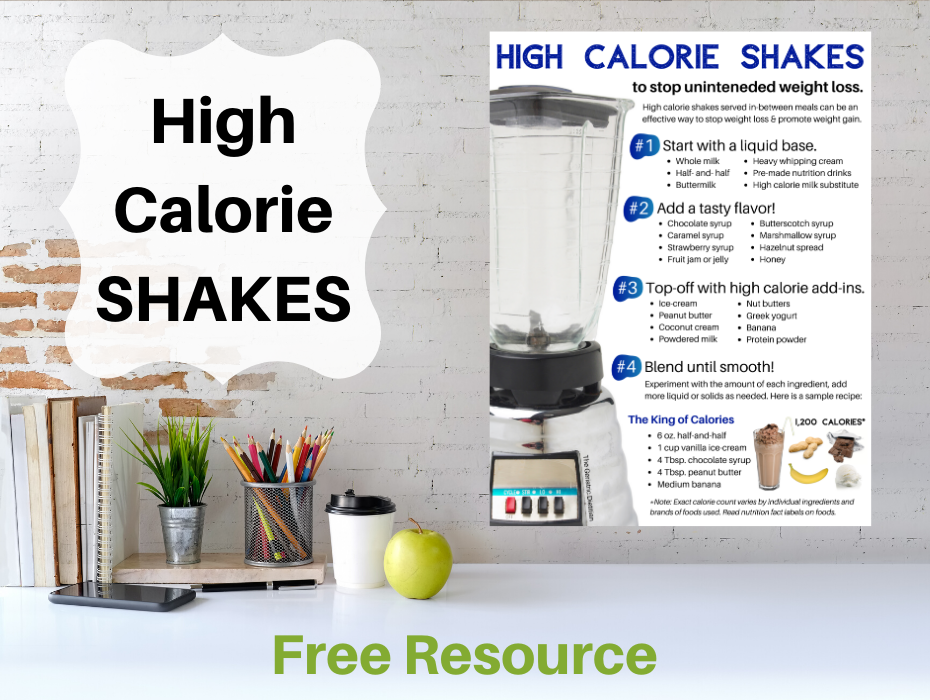 If you aren't ready to buy the High Calorie SHAKES e-Cookbook, no problem. I still have something for you at no cost!
I've created a FREE one-page handout that includes a basic 4 step instruction to making a high calorie shake. It also includes a delicious recipe which provides a whopping 1,200 calories and boy is it tasty! You can snag your copy HERE.
Thank you for taking care of the older adult(s) in your life!