High Calorie RECIPES e-Cookbook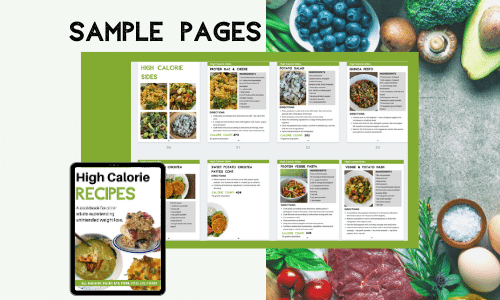 Are you in need of a resource to stop weight loss in older adults? Are you looking for some good high calorie recipes?
Maybe you've found some resources, but are tired of boring, black and white handouts… Then our High Calorie RECIPES e-cookbook is for you!
I have created a full color e-cookbook with 65+ recipes to stop unintended weight loss and promote weight gain in older adults.
This cookbook was designed to help YOU… whether you are the health care professional, the caregiver, or the actual meal provider for older adults.
Keep reading to learn more about our High Calorie RECIPES e-Cookbook!
Why High Calorie?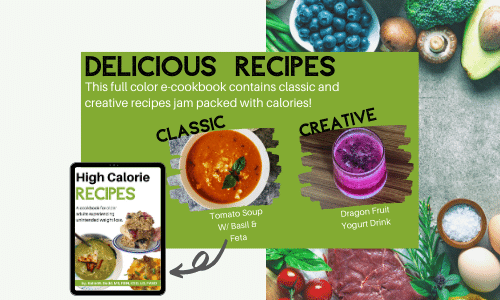 A high calorie diet can help stop unintentional weight loss and promote weight gain.
We've written many articles on this topic including:
When someone is losing weight, they usually don't have much interest in food. But two things can help:
Jam pack a ton of calories in the foods they are eating
Provide delicious and appealing foods
Our High Calorie RECIPES e-Cookbook helps you to do both. These are delicious recipes and are high in calories. It's a switch up from boring oral nutrition supplements. Variety, taste, and a ton of calories.
Why the High Calorie RECIPES e-Cookbook?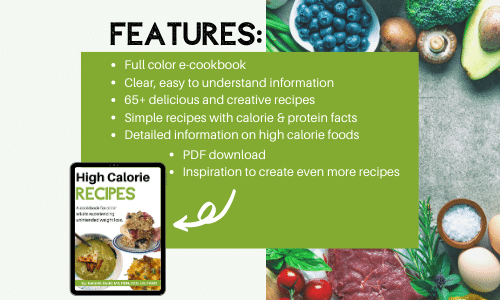 Why this cookbook? Because there is NOTHING else like it!!
When you or I want a recipe, we can find amazing recipes online or in cookbooks with beautiful pictures. But for older adults who need more calories?
They typically get a boring black-and-white handout. No pictures (OK, maybe some clip art). But who wants to look at that? Does that make them excited to eat more?
This e-cookbook will make them excited to stop their weight loss. Who doesn't enjoy a tasty treat??
Check out the e-Cookbook features!
Features include:
Full color PDF e-cookbook
Clear, easy to understand information
65+ delicious recipes
Simple recipes with calorie & protein facts
Detailed information on high calorie foods
Fun and creative recipes
Inspiration to create even more recipes
I created this e-cookbook for you. I created this with a vision of stopping unintended weight loss in older adults. With the intention to help older adults thrive in their final years. And I am so excited to share it with you.
High Calorie RECIPES List
This cookbook contains classic recipes like Chicken Pot Pie and Mac & Cheese. But it also has fun and creative recipes like Mexican Quinoa Pepper Soup and Smashed Potato Balls…trust me, they are delicious.
Here is the complete list of recipes included in the e-Cookbook:
High Calorie BREAKFASTS
Summer Vegetable Frittata
Apple Cinnamon Pancakes
Peach Cobbler Muffins
Vegan Chia Pudding Parfait
PB Stuffed French Toast
Breakfast Casserole Cups
Cheesy Breakfast Grits
Fall Pumpkin Bread
Banana Overnight Oats
Baked Berry Oatmeal Bars
Easy Cherry Parfait
Blueberry Muffins
Protein Fruit Salad
Banana Nut Muffins
High Calorie ENTREES
Spiced Beef Taco Salad
Veggie Roast w/ Beans & Chicken
Philly Cheese Chicken Melt
Soul Food Bowl
Chicken Pot Pie
Chickpea & Tuna Salad
Chicken & Avocado Quesadilla
Butternut Squash & Quinoa Bowl
Chicken Stir-Fry
Chicken & Quinoa Burrito
High Calorie SIDES
Protein Mac & Cheese
Potato Salad
Quinoa Pesto
Kale Salad
Sweet Potato Chickpea Patties
Protein Veggie Pasta
Veggie & Potato Hash
Macaroni Salad
High Calorie SOUP
Tomato w/ Basil & Feta
Roasted Garlic & Cauliflower
Mexican Quinoa Pepper
Bean & Bacon
Italian Sausage & Summer Veggies
Basil Pesto Tortellini
Green Chile & Chicken
Sweet Corn w/ Avocado Salsa
Curried Sweet Potato w/ Mushrooms
Roasted Red Pepper & Tomato w/ Cheesy Croutons
Potato, Leek & Bacon
Instant Pot Farro & Beef Stew
High Calorie SNACKS
Pumpkin Steamed Bread
Blueberry Milk Pudding
Avocado Oatmeal
Fried Smashed Potato Balls
High Calorie DESSERTS
Super Chocolate Pie
White Chocolate Raspberry Shake
Sugar Cookie Cheesecake
PB Chocolate No Bake Cookies
Golden Smores Bars
Easy Cheesecake Bars
Chocolate Cookie Delight
Buttery Blondies
Banana Pudding Delight
Chocolate PB Pudding Pops
PB Bars
High Calorie BEVERAGES
Peach Yakurt
Cashew Strawberry Chocolate Drink
Foamy Watermelon Drink
Dragon Fruit Yogurt Drink
Milk Tea Macchiato
Cherry Pie Shake
Chocolate Mint Shake
Coconut Cream Shake
Cheese Foam Topping
Is This JUST for Older Adults?
No! This e-Cookbook can be used for anyone that needs a boost of extra calories. As The Geriatric Dietitian, my target audience just happens to be seniors! Please note this cookbook is written towards caregivers and references older adults. But anyone would love these recipes.
Grab a Copy Today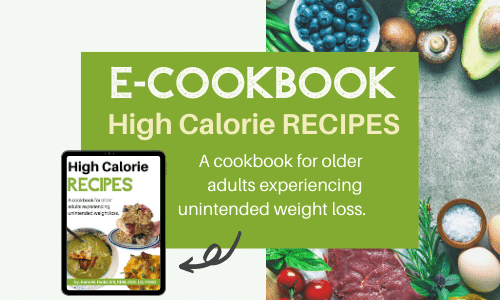 Whether you are a healthcare provider, caregiver, child, or friend of an older adult or someone needing to gain weight… grab your copy today!
You can stop weight loss now or you can be prepared if unintended weight loss starts.
These are the recipes that will stop weight loss and preserve independence in older adults!