The Geriatric Dietitian STORE FRONT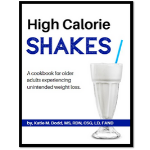 The High Calorie SHAKES e-Cookbook is a cookbook for older adults experiencing unintended weight loss. 
This full-color PDF features 25 delicious shake recipes to stop weight loss and promote weight gain. 
Scroll ↓DOWN↓ to learn more about this resource. 
High Calorie SHAKES e-Cookbook |

A Cookbook for Older Adults Experiencing Weight Loss
Are you trying to help older adults maintain their highest level of function and health in their final years? High Calorie SHAKES can help YOU help THEM. Help protect their muscle & stay independent longer.
Let's Talk About Unintended Weight Loss
It's a big deal. It robs older adults of their independence. It impacts their quality of life and increases the risk of death and disability.
Unintended weight loss leads to muscle loss which can lead to:
Loss of independence

Increase fall risk

More hospitalizations

Early death
When  weight loss starts, action must be taken immediately.
You can help!
Adding high calorie foods into the diet of an older adult is KEY to stopping unintended weight loss. But it takes intention and planning.
Many older adults experiencing weight loss have poor appetite and a hard time "simply" eating more food. The solution? High calorie shakes! These can easily be sipped on in-between meals to maximize calories.
What is Included?
High Calorie SHAKES is an e-cookbook… but it's more than just recipes. It has information and tips you can use to stop weight loss.
Features include:
Full color e-cookbook
Clear, easy to understand information
25 delicious recipes
Simple recipes with calorie & protein facts
Detailed information on high calorie foods
Top secret tips on maximizing intake
Individual tips with each recipe
Fun and creative recipes
Inspiration to create even more shakes
This cookbook contains classic shake recipes like Chocolate & Banana. But it also has fun and creative recipes like Avocado & Peanut Butter Jelly.
The shakes in this cookbook fit in a 20 oz. container and are designed to be a "thinner" shake to make it easier (and faster) for an older adult to drink. Tips are included if they prefer a thicker shake.
Is This JUST for Older Adults?
No! This resource can be used for any client or population that needs a boost of extra calories. My target audience just happens to be seniors! Please note this cookbook is written towards caregivers and references older adults.
But anyone would love these recipes (my 4-year-old and 9-year-old sure did as we were creating them!).
Grab a Copy Today
Whether you are a healthcare provider, caregiver, child, or friend of an older adult… grab your copy today so you can stop weight loss now or so you can be prepared if unintended weight loss starts.
These are the recipes that will stop weight loss and preserve independence in older adults!
COMING SOON… Courses to help you learn more.
Our first course launches June 29, 2020… stay tuned!!